"We made it. We endorse it."
Sometimes the best food and social activities occur at home. A good home cooked meal starts with a good recipe. This page is dedicated to the sporadic sharing of family recipes, quality dishes, foods I've tried to recreate from magazines and stuff that just plain tastes good.
*If you have a recipe you think is worthy of sharing with the friends of Everybody's Hungry, send it to me via the Contact Me page. We'll try it at home and if we dig it, we'll post it.
Check out the current recipe submission below.
We would like to thank all who attended our November edition of The First Cut. "The Griswold" was a great success and we hope everyone learned something new about turkey for the holidays. 
We mentioned in class that the inspirations for our side dishes came from the November edition of Bon Appetit. Their Thanksgiving guide has variety and numerous pointers to make everybody's turkey day great. The recipes enjoyed at the event are available by clicking on the magazine photos below.
We look forward to seeing some new faces at the December class.
Alton Brown's Perfect Roast Turkey
We used Alton Brown's article from Bon Appetit in 2003 for some interesting and helpful tips about the turkey, especially the heat shield idea on page 7.
Link to the article here.
Simple is Best Dressing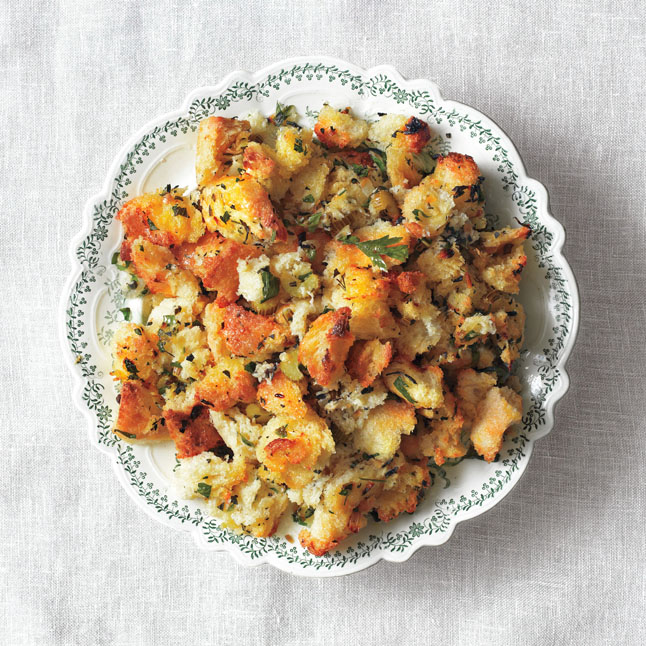 *EBH note: For the stuffing recipe, we modified the recipe a bit by using day old ciabatta and pumpernickel for a more unique flavor. We also added approximately 1/2 pound of fresh ground, loose breakfast sausage.
Ingredients:
3/4 cup (1 1/2 sticks) unsalted butter plus more for baking dish
1 pound good-quality day-old white bread, torn into 1-inch pieces (about 10 cups)
2 1/2 cups chopped yellow onions
1 1/2 cups 1/4-inch slices celery
1/2 cup chopped flat-leaf parsley
2 tablespoons chopped fresh sage
1 tablespoon chopped fresh rosemary
1 tablespoon chopped fresh thyme
2 teaspoons kosher salt
1 teaspoon freshly ground black pepper
2 1/2 cups low-sodium chicken broth, divided
2 large eggs
Preparation:
Preheat oven to 250°. Butter a 13x9x2-inch baking dish and set aside. Scatter bread in a single layer on a rimmed baking sheet. Bake, stirring occasionally, until dried out, about 1 hour. Let cool; transfer to a very large bowl.
Meanwhile, melt 3/4 cup butter in a large skillet over medium-high heat; add onions and celery. Stir often until just beginning to brown, about 10 minutes. Add to bowl with bread; stir in herbs, salt, and pepper. Drizzle in 1 1/4 cups broth and toss gently. Let cool.
Preheat oven to 350°. Whisk 1 1/4 cups broth and eggs in a small bowl. Add to bread mixture; fold gently until thoroughly combined. Transfer to prepared dish, cover with foil, and bake until an instant-read thermometer inserted into the center of dressing registers 160°, about 40 minutes. DO AHEAD Dressing can be made 1 day ahead. Uncover; let cool. Cover; chill.
Bake dressing, uncovered, until set and top is browned and crisp, 40-45 minutes longer (if chilled, add 10-15 minutes).
Whipped Potatoes w/ Horseradish
*EBH note: You could try fresh grated horseradish in this recipe for a pungent kick, but I think the prepared horseradish may be a better option, as the liquid helps keep the potatoes flavorful and moist.
Ingredients:
2 tablespoons unsalted butter, melted, divided, plus 1/2 cup (1 stick), cut into 1-inch cubes, room temperature
2 1/2 pounds russet potatoes, peeled, cut into 2-inch pieces
Kosher salt
4 ounces cream cheese, cut into 1-inch cubes, room temperature
2 tablespoons prepared horseradish
2/3 cup whole milk, warmed
Freshly ground black pepper
1 bunch scallions, white and pale-green parts only, minced (about 2/3 cup loosely packed)
Hungarian sweet paprika
Preparation:
Brush an 8x8x2-inch or other 6-cup baking dish with 1 tablespoon melted butter. Place potatoes in a large pot and add cold water to cover by 1-inch. Add a large pinch of salt; bring to a boil, then reduce heat to medium-low. Cover with lid slightly ajar and gently simmer until potatoes are tender, about 20 minutes.

Drain potatoes; return to same pot. Shake and stir with a wooden spoon over very low heat until dry. Then, using a potato masher, mash coarsely. Using a hand mixer, beat 1/2 cup butter into potatoes, a few pieces at a time, until blended. Beat in cream cheese, adding a few pieces at a time, then horseradish. With motor running, gradually add milk, beating until potatoes are light and fluffy, 4-5 minutes. Season well with salt and pepper.

Stir in scallions. Scrape potatoes into prepared dish. Use a spatula to create peaks across the surface. Drizzle potatoes with remaining 1 tablespoon melted butter and sprinkle with paprika. DO AHEAD Potatoes can be made 1 day ahead. Let stand at room temperature to cool. Cover and chill.

Preheat oven to 350°. Bake potatoes, uncovered, until they are heated through and top is golden, about 40 minutes (if chilled, add 10 minutes).
Winter Squash w/ Spiced Butter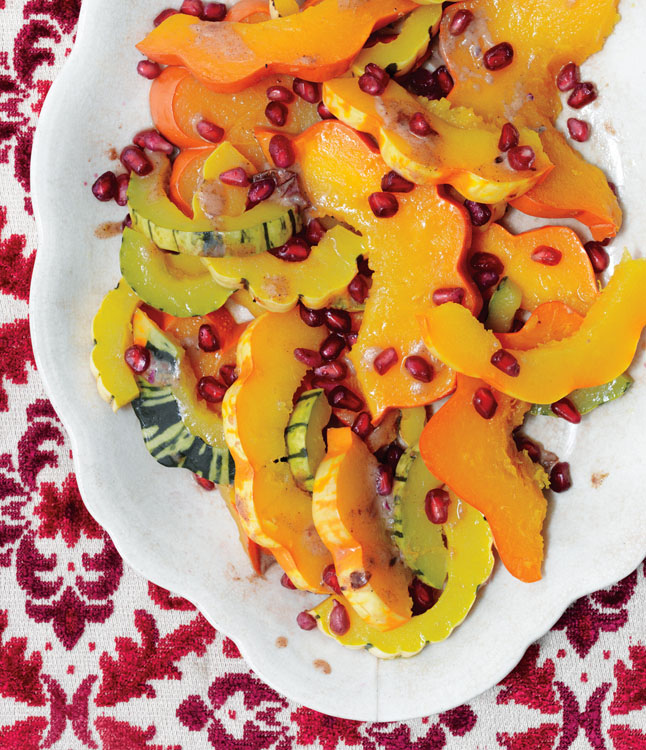 *EBH note: We found that the kobucha squash was extremely tough to cut and had a bitter, chalky flavor that didn't pair well with the spiced butter. Unless you love kobucha squash, our recommendation is to use all acorn or sub in some butternut squash.
Ingredients:
Spiced butter
1/2 cup (1 stick) unsalted butter, room temperature
1 tablespoon crushed dried rose petals (optional)
1 teaspoon finely grated lime zest
1 tablespoon fresh lime juice
1/2 teaspoon ground cinnamon
1/2 teaspoon ground coriander
1/4 teaspoon freshly grated nutmeg
1/4 teaspoon freshly ground black pepper
1/4 teaspoon ground cardamom
1/4 teaspoon ground cumin
Kosher salt
Squash
4 pounds assorted small winter squash (such as acorn, kabocha, or delicata)
Kosher salt
3/4 cups pomegranate seeds
Preparation:
Spiced butter
Mix all ingredients except salt in a small bowl until lime juice is incorporated. Season with salt. Cover; keep in a cool place. DO AHEAD Spiced butter can be made 1 week ahead. Roll into logs, wrap in parchment paper, and refrigerate for up to 2 weeks or freeze for up to 3 months.
Squash
Trim ends of acorn and kabocha squash and cut in half through the stem end. Scrape out seeds and place squash cut side down on a cutting board (do not peel). Cut halves crosswise into 1/2-inch slices. If using delicata squash, cut crosswise into 1/2-inch rings; scrape out seeds.

Fill a large wide pot with water to a depth of 1/2-inch and add a pinch of salt; bring to a boil. Add squash slices; reduce heat to medium-low. Cover and steam, adding more water as needed to maintain 1/2-inch of water at bottom of pot, until squash is tender but not falling apart, 20-25 minutes.

Carefully transfer squash slices to a large platter (some squash at bottom of pot may be too soft; save for another purpose4) and season with salt.

Reduce water in pot over high heat (or add hot water) to measure 3/4 cup. Remove from heat and whisk in spiced butter, 1 tablespoonful at a time, to form a rich, glossy sauce. Season to taste with salt. Drizzle spiced butter over squash. Top with pomegranate seeds.
Turkey Gravy

*EBH note: For the gravy, don't forget about the rich turkey flavor available in sauteed giblets.
Step 1: START WITH TURKEY STOCK
Great gravy begins with the Make-Ahead Turkey Stock (click for recipe). If you want to make one from scratch, do it now (or anytime, for that matter, since turkey wings are available year-round). In a pinch, store-bought stock will work.
Step 2: MAKE A TRUE ROUX
Roux is simply butter or oil cooked with flour. It's used for thickening sauces, and it's what makes this gravy silky-smooth.
Melt 1/3 cup unsalted butter in a small skillet over medium heat. Whisk in 1/3 cup all-purpose flour. Reduce heat to low; whisk until roux is golden brown, about 2 minutes. DO AHEAD Roux can be made 2 days ahead. Let cool, cover, and chill.
Step 3: ADD THE DRIPPINGS
Browned bits left in the bottom of the pan after roasting the turkey give body, richness, and roasty flavor to the gravy.
Bring 6 cups Make-Ahead Turkey Stock to a boil in a large saucepan over medium heat. Add 1-2 cups skimmed and strained roast turkey drippings. (If you're short on drippings, skim fat from pan and add 1-2 cups water. Scrape up browned bits with a wooden spoon; strain liquid into stock.) Season to taste with kosher salt and freshly ground black pepper. Whisk in roux. Reduce heat to low; simmer gently for 5 minutes for gravy to thicken and flavors to meld. You're done!
*Original recipes available by clicking the images.
Was this not the recipe you were expecting? Try our Recipe Archives page for past submissions.